The QIKtest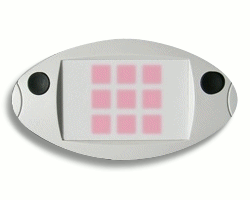 Ultra flexible, stand alone device for performing patient progress tracking and continuous performance test with unprecedented accuracy. The average response time, variability of response time, number of commission errors and number of omission errors will be displayed. Speed, accuracy and consistency are all being measured, and will be compared to norms after the full test.
As a therapist you need multiple sources of information for your work with patients and clients in order to get a comprehensive overview. You get valuable results from the evaluation of permanent attention tests. With the QIKtest your client performs a 21-minute permanent attention test, during which every of the 600 reactions are being monitored with high percision. The shown QIKtest device is lightweight and sits comfortably in the hand thanks to its rounded shape. The patient reacts to the optical flares with the buttons on the right and left side. The device can be charged via USB. As soon as the test results are saved, you can upload them for evaluation on www.eegexpert.net hochgeladen. On the website EEG Expert you create a record for each client for 12 EUR plus VAT or USD 18 singular fee, incl. VAT. Then you have as many tests with QIKtest and symptom tracking without additional costs. All you need is a PC or Apple Computer with access to the internet. Automatically you receive for every test a 6-page record with coloured charts, explanatory comments and the exact number of credits. EEG Expert provides you with versatile documents for your records, for your collegues or for your patients and clients, either printed out or as a pdf-document. The standard base is greater than 20,000. The underlying tests are from the years 2008-2014. The standard is carried out for both sexes and for ages between 5-99 years. The standard was created in 2014 and is NOT Gauss-based.
FEATURES
- Unit can run a wide variety of test sequences with any combination of light and sound
- Visual stimulus: High brightness 3x3 LED display
- Auditory stimulus: Three channel sound generator driving internal speaker as well as stereo headphones (optional)
- High precision two-channel reaction measurements
- Battery-powered ultra-flexible stand alone device for performing client progress tracking and Continuous Performance Tests with unprecedented accuracy
- Automatic detection of Com Port configuration
- Input: two high-endurance precision buttons, ergonomically positioned for simultaneous right and left hand input
- Time measurement resolution 0.1msec
- Memory holds up to 1791 stimulus responses
- Professional test analysis done at EEG Expert (www.eegexpert.com)
- Rechargeable batteries, one charge good for more than 50 tests
- Synchronization signal output for advanced applications and synchronization with brainwave monitoring devices
- Developed and manufactured in Switzerland

INSTALLATION AND OPERATION
For installation and operation instructins device please check our support section
ORDERS
USA:
»Click to visit QIKtest website for orders in the USA

Europe:
»Click to visit QIKtest order website for orders in Europe and Worldwide
Languages: English, German, French, Spanish
Note on changing languages on EEG Info's European website, click on the flag in the upper left hand corner.